This school report, largely designed for parents, outlines the many preparations made before the implementation of the two-way busing program for elementary and middle schools in Berkeley. The activities were on a large scale: almost all of the city's 1100 fifth graders, for instance, went to an outdoor education camp for two days during the previous spring, and many Berkeley community organizations—churches, synagogues, scouting groups, the YWCA—sponsored discussions and outreach efforts.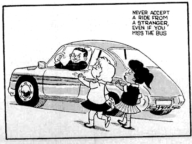 The report also offers, in a more practical manner, a detailed busing schedule for each of the newly drawn school zones in Berkeley, along with cartoons by Morrie Turner, the Berkeley-based cartoonist who drew the strip "Wee Pals" for decades and who offered his services for the BUSD's new "Pupil Safety Bus Manual."
The report suggests how the desegregation project prompted the extension of many new efforts: the formation of a city-wide Intergroup Youth Council, a group of 50 selected fourth and fifth graders who met with the superintendent to take an active role on issues related to integration; Operation Motivation, which brought in Negro community leaders into the classrooms to enhance positive awareness; and the Teacher Exchange, which sponsored elementary school teachers to leave their own schools and teach in two schools that had a different racial composition to their student body.